Kreg Jig® HD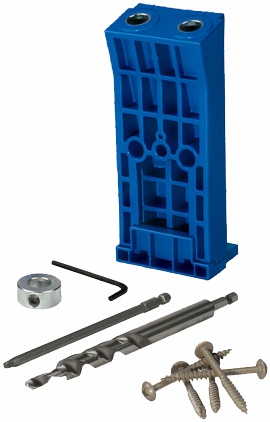 The heavy-duty solution for building with wood
Efficient Design and Hardened-Steel Drill Guides Designed with the same tried-and-true efficient design and hardened-steel drill guides as the original Kreg Pocket-Hole Jig, the Pocket-Hole Jig HD lets you create joints in 1 1/2' and thicker materials that are an amazing 50% stronger than traditional Kreg Joints™. If you are framing walls, building deck railings, outdoor furniture, or any other large project, you always want the strongest joint possible; and this is where the Kreg Pocket-Hole Jig HD excels — strength.
Great for 2x4s and 1 1/2'-Thick and Larger Stock The Kreg Pocket-Hole Jig HD is optimized for working with 2x4s and 1 1/2' thick and larger stock. It utilizes #14 heavy-duty, hardened-steel screws that provide incredible shear-resistance, as well as three anti-corrosion layers for incredible long-term moisture resistance.
Works As a Stand-Alone Jig The Pocket-Hole Jig HD works great as a stand-alone jig. Simply connect it to your Kreg Face Clamp, lock it into place, and take it where you need to go. Depending on the project, the Kreg Pocket-Hole Jig HD can also connect directly to your model K3, K4, or K5 benchtop base for upright drilling.
Creates joints 50% stronger than standard Kreg Joints
Stop Block provides easy, repeatable registration to workpiece
Optimized for large outdoor projects
Face Clamp locks into Kreg Jig HD for secure drilling
For use with materials 1 1/2' thick (38mm) and thicker
Works with the Kreg Pocket-Hole Jig K5, K4, and K3
Features
For use with materials 1 1/2'-thick and thicker material
Works independently or with K5, K4 or K3 jigs
1 7/16' center-to-center drill guide spacing
Construction
Glass-filled nylon, polymer, steel
Capacity
Materials 1 1/2' thick and thicker
Compatibility
Kreg HD Pocket-Hole Screws
HD stepped drill bit
HD driver bit
Pocket-Hole Jig K5, K4, K3
Custom Pocket-Hole Plug Cutter
Foreman Pocket-Hole Machine
Includes
(1) HD Drill Guide
(1) Stop Block
(1) 1/2' (12mm) Diameter HD Stepped Drill Bit
(1) 6' HD Driver Bit
(1) Stop Collar
(1) Allen Wrench
(1) Starter Kreg® Screw Set
(1) Owner's Manual