Production Stop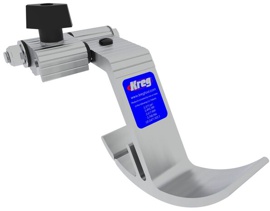 Get Repeatable Accuracy
Add repeatable accuracy to your miter saw, band saw, table saw fence, router table, and more with this versatile Swing Stop. It holds your desired measurement precisely, and swings out of the way easily when you want to cut without it.
Precision
The Swing Stop features a precision lens cursor with a hairline indicator that allows you to set dimensions exactly. Plus, the cursor is adjustable so you can easily fine tune the Swing Stop to your tool.
Versatile and Durable
When you want to use the Swing Stop, it stays where you set it thanks to its rugged aluminum construction and high-quality bushings that prevent deflection. When you want the stop out of the way, simply swing it up or slide your board into the front of the curved foot, and the Swing Stop will pop up out of the way for an unobstructed cut. The foot also has a small breakaway section that allows you to modify it easily to work on a fence that has an auxiliary face.
Adaptable Design
The Swing Stop is designed to work with Kreg Top Trak and Heavy-Duty Trak, so you can build your own fence, install the track, and use the stop. That gives you options and means you can easily use the Swing Stop on many types of tools. The stop simply drops into the track from the topside, allowing it to be quickly removed and repositioned.
Curved face allows stop to be easily bypassed
Durable bushings ensure rigidity and accuracy
Precision lens cursor provides exact measurements
Compatible with Kreg® Top Trak and Heavy-Duty Trak
Features
Swing-away precision work piece stop
Sturdy, precision work piece stop
Break-away stop section for use with sacrificial fence
Construction
Anodized aluminum
Compatibility
Precision Track and Stop Kit
Precision Band Saw Fence
Top Trak
Heavy-Duty Trak
Self-Adhesive Measuring Tapes
Includes
Swing Stop and Mounting Hardware
Owner's Manual