Cabinet Hardware Jig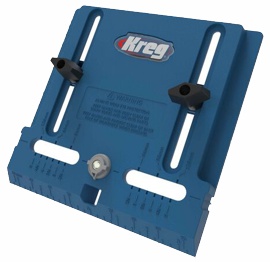 Install knobs and pulls with easy, repeatable accuracy
The Kreg Cabinet Hardware Jig takes the guesswork out of installing cabinet knobs and pulls. The moveable edge guide and measuring scales make it easy to position knobs precisely, while adjustable drill guides ensure straight holes for perfect knob and pull positioning every time.
Perfect for new construction and for refreshing entire rooms.
Whether you're updating your cabinets or building a project from scratch, adding hardware like knobs and pulls is often one of the final steps —​ and one of the most intimidating. Drill the holes incorrectly, and it can be very difficult to correct the mistake. The Cabinet Hardware Jig takes all the guesswork out of the process by allowing you to drill straight, accurately positioned holes every time, so you'll know that every piece of hardware is positioned correctly and consistently.
The Cabinet Hardware Jig features moveable, hardened-steel drill guides that lock in place to align with common hole-spacing measurements for cabinet knobs and pulls. This allows you to confidently drill straight, accurately positioned holes. A moveable edge guide and built-in measuring scales (in imperial and metric) ensure that those holes will be positioned where you want it every time, which means you can drill as many holes as you need without the uncertainty and potential mistakes that can come with measuring and marking every one.
The Cabinet Hardware Jig is designed to be intuitive for beginners to use, but robust enough for professionals. All you need is a drill and a 3/16', bit, and the ability to set the jig to match your hardware and the position where you want it to go. Durable polymer construction makes the jig tough but light, and hardened-steel drill guides ensure that you'll get straight, accurate holes — whether you're drilling one, a few, or hundreds.
3/16' (5mm) drill bit required is not included.
Adjustable guides for accurate hole placement
Strong, lightweight materials for easy handling
Built-in measuring scales for repeatable results
Durable hardened-steel drill guides
Versatile for mounting single and multi-hole knobs
Adjustable edge guide for easy positioning
Features
Cabinet Hardware Jigs for installing cabinet knobs and pulls
Works with imperial and metric sizes
Construction
Plastic Polymer, Steel
Capacity
1' to 5' (25mm-127mm) edge guide to hole-center spacing
2 1/2', 3', 3 1/2', 4', 4 1/2', 5' and 64mm, 96mm, 128mm drill guide spacing
Compatibility
Kreg Wood Project Clamps and Face Clamps
Includes
(1) Jig base
(1) Edge guide
(2) Drill guides with knurled nuts
(2) Non-slip pads
(2) T-knobs and bolts
(1) Owner's Manual