Mobile Project Center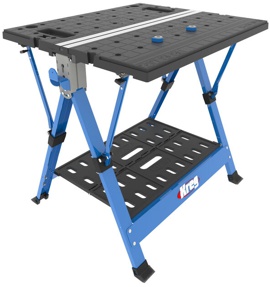 Make any place your workspace. Work on projects wherever, whenever, and however you need to!
The Mobile Project Center is a workbench, sawhorse, assembly table, and clamping station all in one — a versatile workspace for DIY, repair, and woodworking projects. It's easy to set up and store away, and it provides a sturdy platform for all kinds of project tasks. Plus, the Mobile Project Center includes $40 worth of bonus clamping accessories, so it's ready to go to work right out of the box.
The Mobile Project Center provides a portable workspace that can be used for a wide variety of project tasks. In one mode, it's a sturdy sawhorse that's great for supporting long boards as you cut. Flip the large tables into position and this product offers the features you'd expect to find in a high-end stationary workbench.
The Clamp Trak and included Bench Clamp with Automaxx® Auto-Adjust Technology provide multiple ways to hold workpieces. The open tables can support up to 350 pounds (158kg), and have built-in storage trays, holsters for your drill, and more. A shelf underneath holds up to 25 pounds (11.3kg) of supplies and tools out of the way but close at hand while you work.
In addition to being great for general project use, the Mobile Project Center is perfect for Kreg Joinery. Whether you're drilling pocket holes, clamping cases or face frames together, or preparing your project for final assembly, the Mobile Project Center makes Kreg Joinery even easier.
The Mobile Project Center is simple to use. Just unfold the legs and it's set up as a sawhorse. You can even add a 2x4 cutting surface using the included hardware. Flip one or both tables into position, and the Mobile Project Center is ready to take on many other tasks. When you're done, simply pull the tabs on the table braces, fold the tables down, then close the legs, and the Mobile Project Center is ready for out-of-the-way storage.
There are also multiple ways to use two Mobile Project Centers together. You can attach two side-by-side for an extra-large surface, or span between two benches by placing 2x4s in the included brackets. That lets you create a large surface for cutting big pieces, or an extra-large workbench by resting a piece of plywood on the 2x4 boards.
Tables provide large 27 1/2' x 31 1/4' (70x80cm) work surface and 360° access
Built-in storage trays hold hardware and other parts
Perfect for use with Kreg Joinery
Locking table supports with easy-release tabs
Heavy-gauge steel legs provide a solid foundation
Hole pattern on tables accept Kreg Bench Dogs and other accessories
Folds down in seconds for work on the go and easy storage
Included Kreg Bench Clamp with Automaxx® clamps vertically and horizontally
Expandable by pairing with a second Mobile Project Center
Features
Sturdy, stable, portable work center
Dimensions
27 1/2' x 31 1/4' Work Surface, 31 1/2' Table Height
Construction
Steel, Plastic polymer
Adjustability
Folding support wings
Capacity
350 lbs. (158kg)
Weight
52.51 pounds
Compatibility
Track Horse
Bench Clamps
Wood Project Clamps
Includes
(1) Mobile Project Center
(1) Bench Clamp with Automaxx® technology
(4) Bench Dogs
(2) Support brackets
(2) Trak bushings
(2) Connection keys
Owner's Manual