Shelf Pin Jig 5mm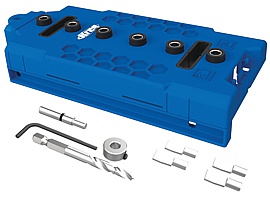 Add perfectly spaced shelf pin holes to your projects with the Kreg Shelf Pin Jig. Hardened-steel drill guides ensure precision for level, wobble-free shelves. It comes complete with a 5mm high-quality brad-point bit. Drill guides are centered on standard 1 1/4' (32mm) spacing and feature a lifetime warranty.
Whether you're adding shelves to existing furniture, or building from scratch, creating the shelf pin holes is easy. Use the fence to align the jig with the edge of your workpiece for straight, accurate rows. Quickly drill six holes in one setup – or connect a second Shelf Pin Jig to drill longer rows of holes with the same consistent spacing.
The jig also has useful features for installing concealed cabinet hinges and drawer slides in frameless cabinets. Molded-in alignment marks and an indicator window help align mounting screws for hinge plates – set at standard backspacing for a 32mm cabinet system – which also helps with locating the front hole for drawer slide installation.
Create perfectly spaced holes at 1-1/4' (32 mm) increments
Snap two jigs together to quickly drill more holes in one run
Drill clean, precise holes with hardened-steel drill guides
Keep accessories close by with on-board storage
32 mm system compatible for locating hinges and drawer slides
Work confidently with alignment windows for visibility
Features
Six hardened-steel drill guides
Consistent 1 1/4' (32mm) spacing
Compatible with 32mm cabinet system
Removable dual-position fence
Aids alignment of concealed hinges and drawer slides
Connect two jigs without tools
Onboard storage for bit, pin, wrench
Adjustability
Dual-position fence
Compatibility
Kreg Shelf Pin Jig Drill Bit (1/4')
Kreg Shelf Pin Jig Drill Bit (5mm)