Kreg Pocket-Hole Jig® K5 Master System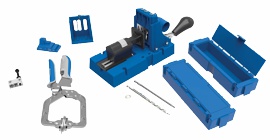 The most advanced Kreg Pocket-Hole Jig yet, plus premium Kreg accessories
The Kreg Pocket-Hole Jig K5 Master System combines the Pocket-Hole Jig K5 with premium accessories to make it even easier to get started building with Kreg Joinery. Accessories include a 3' Wood Project Clamp with Automaxx® auto-adjust technology, a Portable Base for building on the go, and downloadable plans for six projects.
The 3' Wood Project Clamp features auto-adjust technology that simplifies project construction by allowing you to clamp workpieces of varying thicknesses without ever having to adjust the clamp. That makes it the perfect companion to the ratcheting, tool-free workpiece clamp on the K5. Adding the Portable Base gives you yet another use for your Kreg Pocket-Hole Jig K5 — a simplified setup for portable building and making repairs. See the Portable Base in action in this Quick Tip video. Plus, the K5 Master System includes downloadable step-by-step plans for six great home projects so that you can get started building right away.
Advanced features for building with wood
The Pocket-Hole Jig K5 incorporates the best features of every Kreg Pocket-Hole Jig that came before, with innovative upgrades you've never seen. That starts with a clamping mechanism that you can quickly adjust, without tools or adjusting nuts, to match your workpiece thickness. Just slide the clamp into place, 'click' the large front-mounted clamp handle, and your jig is set to hold your workpiece tight every time.
You'll find large support wings to hold your workpiece steady — plus, they open up to provide handy storage for bits and accessories. Add in a batch of other great features, like a swiveling dust collection port, spring-loaded stop for the drill guide block, and, of course, the ability to remove the guide block for portable use, and you have — quite simply — the most advanced Kreg Pocket-Hole Jig yet.
Fast, simple setup
When you're ready to get started building, the Pocket-Hole Jig K5 makes it simple. Just select your screw based on the thickness of your wood, set the stop collar using the drill bit setup block, pull the spring-loaded pin to adjust the drill guide block, and then set the workpiece clamp.
Easy thickness adjustment
The K5 offers our simplest workpiece clamping system ever. The ratcheting clamp simply slides into place against your workpiece. Then, you lift the handle until you hear and feel two 'clicks,' and that's it. Now your clamp is set until you change to a different material thickness.
Support with built-in storage
Two large support wings can be attached quickly and easily to both sides of the K5 base. This way, long workpieces get solid support and won't tip. Plus, there's a large storage compartment under the lid in each wing where you can keep your Kreg drill bits, screws, and accessories close at hand, but out of the way.
Swiveling dust collection port
The Pocket-Hole Jig K5 comes with a removable dust port that swivels from side to side so that you can position it exactly where you want it, and then attach it to a standard vacuum house. This keeps your work area free of chips and debris, makes drilling easier, and prolongs drill bit life by reducing heat.
6 Project plans included
Get started building with these downloadable step-by-step project plans. You get three great plans, each with two design variations
Front-mounted handle makes clamping easy
Adjustable workpiece stop mounts on either side for easy repeat drilling
Ratcheting clamp mechanism adjusts without tools
Stop-collar setting block makes drill bit setup easy
Storage wings provide built-in storage for bits and accessories
Quick-release pin holds drill block securely in place
Swiveling dust collection port accepts any standard vacuum hose
Comes with Kreg Pocket-Hole Jig K5, 3' Wood Project Clamp, Portable Base for building on the go, and 6 downloadable plans
Hardened-steel Kreg drill guides feature a lifetime warranty
Features
Front-mounted handle
Ratcheting clamp mechanism
Hardened-steel drill guides
Includes bonus accessories
Construction
Glass-filled nylon, polymer, steel
Adjustability
9/16', 7/8', 1 7/16' hole spacing
Drill guide adjusts for 1/2'-1 1/2' thick material
Adjustable clamp pad
Adjustable drill-bit stop collar
Capacity
Materials from 1/2' to 1 1/2' thick (12-38mm)
Compatibility
Kreg Pocket-Hole Screws
Kreg Pocket-Hole Plugs
Micro-Pocket Drill Guide
Kreg Jig HD
Easy-Set Drill Bit
Includes
(1) Pocket-Hole Jig K5
(2) support wings with storage
(1) swiveling dust port
(1) adjustable workpiece stop
(1) stepped drill bit & stop collar
(1) stop-collar setting block
(1) 6' square-drive bit
(1) screw and plug sample pack
(1) Wood Project Clamp withAutomaxx® - 3' reach
(1) portable base
downloadable project plans
Warranty
Lifetime drill-guide warranty