Precision Router Lift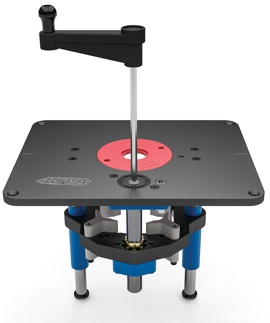 Take control of your table-mounted router for quick, accurate, reliable, and repeatable setups
The Precision Router Lift helps you elevate your routing capabilities by providing precise control when making router setup changes or changing bits. The lift replaces the standard insert plate in a router table (the 3⁄8' x 9 1⁄4' x 11 3⁄4' plate fits all Kreg® router tables plus many popular brands) and accepts any of 20+ popular router models—without the need adapters or modifications—in a high-performance carriage that you raise and lower from above the table.
With the Precision Router Lift, there's no more reaching under the table to make adjustments or change bits, plus vastly improved control over all adjustments, large or small. Instead, simply use the lift's included crank to adjust the height of your router bit easily and precisely from above the table. This makes adjustment fast, simple, and accurate so you can set up your router faster, and then dial in the exact bit height you require using the Precision Router Lift's built-in micro-adjustment scale. The lift also simplifies changing bits by allowing you to do that from above the table, as well.
Precision is more than part of the name with this lift, too. The Precision Router Lift is designed so that every full revolution of the adjusting crank moves the carriage—and your bit—exactly 1⁄16', though adjustments down to thousandths of an inch are possible. A built-in micro-adjust scale can be zeroed out at any point to establish your baseline bit setup, so you can make exact bit height changes, and readjust to the exact same setting confidently every time for repeat cuts.
Whether you're upgrading an existing router table, setting up a new one, or even building your own custom table, the Precision Router Lift is the perfect routing accessory. It offers the precision you demand to achieve exacting routing standards, along with the fast, easy performance you want in order to spend less time setting up and more time routing.
Allows precise above-the-table setup changes for table-mounted routers
Bearing-guided carriage provides smooth operation
Above-table collet access allows fast, easy, above-table bit changes
Precision indexing ring with micro-adjust scale simplifies bit height changes
3⁄8' x 9 1⁄4' x 11 3⁄4' (9.5 mm x 235mm x 298mm) hard-anodized aluminum plate won't sag, resists scratches
Precise adjustment without backlash ensures accuracy
Fits all Kreg® router tables and many competitive brands
Accepts 20+ popular routers (click for compatibility chart) without requiring pads or adapters
Features
Clamps adjust to fit 20+ popular router models without shims or adapters
Hard-anodized aluminum plate
Precise adjustment down to 1/64'
Construction
Hard-anodized aluminum, steel, plastic polymer
Compatibility
Precision Router Table Top
Precision Router Table System
Precision Benchtop Router Table
Level-Loc Reducing Rings
Accepts 20+ popular routers (click for compatibility chart) without need for adapters or modification