Kreg® Easy-Set Stop Collar & Material Thickness Gauge/Hex Wrench Kit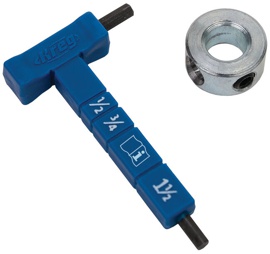 This kit includes the same Easy-Set Stop Collar and Material Thickness Gauge/Hex Wrench that come with Kreg® 300-Series Pocket-Hole Jigs. The collar features a window that aligns with the engraved markings on the Kreg Easy-Set Pocket-Hole Drill Bit to make setting the bit at the correct depth easy for 1/2', 3/4', and 1 1/2' materials.
The Material Thickness Gauge allows you to easily determine material thickness (1/2', 3/4', 1 1/2'), and has a built-in hex wrench for tightening the stop collar. Collar also fits all other standard (3/8'-diameter) Kreg pocket-hole drill bits.
Stop collar and Material-Thickness Gauge/Hex wrench for Kreg® Pocket-Hole Jigs
Also works with K5, K4, K3, R3, Mini, and Foreman (DB210)
Stop collar window aligns with etched markings on drill bit for easy setup
Thickness Gauge easily measures material thickness (1/2', 3/4', 1 1/2'), and has built-in hex wrench
Direct replacement for items included with Kreg® Pocket-Hole Jig 320, 310
Features
Direct replacement for stop collar and thickness gauge/wrench included with Kreg® Pocket-Hole Jig 320, 310
Construction
Steel, plastic polymer
Capacity
Thickness Gauge measures 1/2'-1 1/2' thicknesses
Compatibility
Easy-Set Pcoket Hole Drill Bit
Pocket-Hole Jig 320, 310
Works with all Kreg Pocket-Hole Jigs and drill bits
Includes
(1) Easy-Set Stop Collar
(1) Material Thickness Gauge/Hex Wrench