Portable Crosscut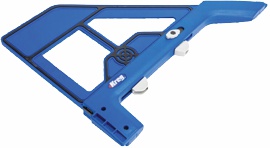 Add speed and accuracy to your circular saw with guided cutting
The Portable Crosscut allows you to quickly and precisely crosscut boards up to 8' wide and make accurate cuts at a 45° angle — using just a circular saw. You'll know exactly where your saw will cut every time thanks to the retractable cutline indicators. Simply align to your pencil mark and cut with confidence.
The saw support ledge starts off every cut with stability and precision, while GripMaxx™ holds the guide steady throughout the entire cut. It's all part of the guided cutting advantage that delivers high-quality cuts using only a guide and a circular saw. With the Portable Crosscut, you can set up cuts in no time and get to work quickly.
Quickly and accurately crosscut up to 8' (203mm) wide
Take the guide anywhere your projects take you
Makes precise 90° and 45° cuts
Works with left- or right-blade circular saws
Retractable cutline indicators show exactly where your saw will cut
Saw support ledge aligns your saw perfectly straight for precise cuts
GripMaxx™ eliminates slipping and holds the guide in place
Features
GripMaxx™ anti-slip
Retractable cutline indicators
Saw support ledge
Ergonomic grip
Adjustability
Retractable cutline indicator
Capacity
Cut material up to 8' wide at 90° and 45°
Includes
Portable Crosscut