Accu-Cut™ XL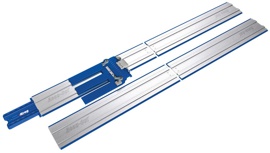 Transform your circular saw into a high-performance, track-guided cutting tool for breaking down full sheets of plywood with cuts up to 100'
Set your projects up for success by making straight, accurate, splinter-free cuts with the Accu-Cut™ XL Circular Saw Track Guide. It rips, crosscuts, and makes angled cuts up to 100' long in plywood, MDF, and other large panels with accuracy and control.
The Accu-Cut™ XL guides your circular saw along an extended-length aluminum track that holds the saw steady and keeps your cuts straight. The track guide is designed for simplicity: just mount your saw to the Universal Sled, align the Accu-Cut™ XL track to the cut line, and make the high-quality cuts you need. The anti-chip guide strips prevent splintering and tearout through the entire length of your cut. The same strips also feature an anti-slip surface that holds the track in place without clamps.
Break down panels and plywood easily and quickly with cutting capacity up to 100'
No clamps needed thanks to anti-slip guide strips that keep the track in place through the entire cut
Splinter-free cuts with tearout protection from anti-chip guide strips
Make the cuts you need – anywhere – by taking your saw to the workpiece instead of bringing the workpiece to a fixed saw location
Easily attaches to your left-blade or right-blade circular saw, and removes easily
Features
Dual anti-chip, anti-slip strips
Stays in place without clamps (optional clamps available for specific purposes)
Starting block simplifies starting cuts
Construction
Impact-resistant polymer, aluminum, rigid and flexible PVC
Capacity
Cuts up to 100' long
Compatibility
Accu-Cut™
Accu-Cut™ Expansion Pack
Accu-Cut™ Replacement Guide Strips
Track Clamps
Rip-Cut™
Accepts left- or right-blade saws