Accu-Cut™ Replacement Guide Strips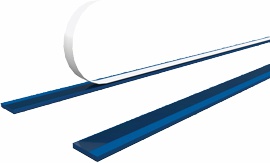 Accu-Cut™ Replacement Guide Strips allow you to easily replace the original strips on your Accu-Cut™, Accu-Cut™ XL, or Accu-Cut™ Expansion Pack. If the strips ever get damaged, worn, or you switch to a different circular saw that requires a different setup, just peel off your old Guide Strips, and stick the new ones in place using the attached adhesive strip.
Includes two of the same thick, durable, anti-slip strips that come with the Accu-Cut™ family of products, as well as easy-to-follow installation instructions that allow you to replace your strips in just a few minutes.
Includes 2 Replacement Guide Strips for the Accu-Cut™, Accu-Cut™ XL, and Accu-Cut™ Expansion Pack
Direct replacement for the factory-installed Guide Strips on the Accu-Cut™ and included Guide Strips with the Accu-Cut™ XL and Accu-Cut™ Expansion Pack
Attached adhesive makes installation easy
Installation instructions included
Features
Direct replacement for Accu-Cut™ Guide Strips
Construction
Rigid and flexible PVC
Compatibility
Accu-Cut™
Accu-Cut™ XL
Accu-Cut™ Expansion Pack
Dimensions
.016' x 1.00' x 26.38'
Dimensions
(2) Guide Strips with attached adhesive strips
Installation Instructions