Heavy-Duty Bench Clamp System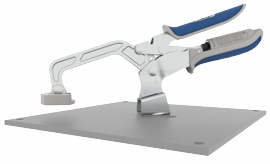 Portable 360° clamping station for wood projects For 360° clamping on the go, check out the Heavy-Duty Bench Clamp System. It combines a 3' Bench Clamp with a thick 10' x 10' powder-coated steel plate. Rubber feet allow this system to be used anywhere. Or, the plate can be recessed into a work surface.
Thanks to Automaxx® auto-adjust technology, the Bench Clamp adjusts to match material thickness automatically with a simple squeeze of the handles — whether the material is thick, thin, or in between. The clamp allows easy regulation of clamping pressure with a simple thumbscrew.
Includes a 3' (76mm) Bench Clamp and a thick 10' x 10' (254mm x 254mm) steel plate
Clamp features an adjustment knob for built-in pressure control
Can be used on the go or mounted to a work surface
Extra-large padded clamp spreads clamping pressure evenly
Clamp automatically adjusts to match material thickness
Ergonomic padded grips prevent hand fatigue
3' reach (76mm); clamps materials up to 3-3/4' thick (95mm)
Features
Automaxx® auto-adjust technology
Construction
Steel with Molded Grips
Capacity
Clamping capacity up to 3 3/4' (95mm)
3' (76mm) reach
Includes
(1) 3' Bench Clamp
(1) 1/4' x 10' x 10' Powder-Coated Steel Plate