Protec-Kote™ Deck Screws - 700ct.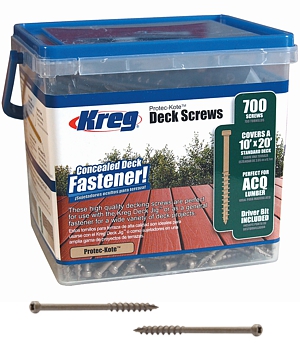 Premium screws designed for use with the Kreg® Deck Jig
Create a better, more beautiful deck with Kreg® Deck Screws and a Deck Jig. Designed to work with the Kreg® Deck Jig, these superior-quality screws feature a self-tapping tip and aggressive threads for fast, easy driving, plus a smooth upper shank to help pull deck boards tightly against the joist. Made from solid stainless steel for ultimate corrosion resistance, these Deck Screws are case-hardened for superior strength without snapping. The small trim-head size and neutral color also makes Kreg Deck Screws great for a variety of other outdoor projects. 2' length for 4/4 and 5/4 decking.
Protec-Kote™ three-layer coating for long-lasting performance outdoors
Case-hardened steel for high strength without bending or snapping
Self-tapping tip for easy driving
2' length for use with 4/4 and 5/4 deck boards
Smooth upper shank to draw deck board tightly against the joist
Also available in stainless steel
Compact head with flat underside to prevent wood splitting
Features
For use with the Kreg Deck Jig
Trim head exterior screw
Self-tapping tip
Protec-Kote™ Coating
Construction
Case-hardened steel with corrosion resistant coating
Capacity
2' length for 4/4 and 5/4 decking
Compatibility
Kreg Deck Jig
Kreg Deck Screws
Kreg Deck Jig Drill Bit
Kreg Deck Driver Bit
Includes
700 Deck Screws