Precision Router Table System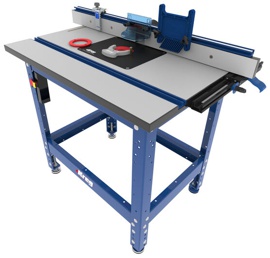 Unmatched versatility, incredible adjustability
The Kreg Precision Router Table System combines unmatched versatility with incredible adjustability and ease of setup to take your woodworking projects to the next level. This powerful system offers a large, durable table top, a one-of-a-kind T-square style fence, and a durable steel stand that work together to create a router table that meets all of your precision-routing needs.
Multipurpose, self-squaring router table fence system
At the heart of the system is the Kreg's Precision Router Table Fence. This innovative, anodized-aluminum fence features a table saw-style T-Square adjustment system that ensures the fence will always stay parallel to the miter-gauge slot. The fence adjusts easily with just one hand and locks firmly in place with dual locks: a large paddle lock on the infeed end, and a quarter-turn lock on the outfeed end that prevents fence deflection. To ensure exact positioning, the fence features a measuring scale that allows you to position the fence and make adjustments based on the bit you are using. An included micro-adjust wheel makes setups simple to ensure precision.
Built-in dust collection and jointing feature
Independent sliding fence faces can be positioned exactly where needed to provide workpiece support close to the bit and to maximize chip collection into the fence's built-in dust port. Plus, two jointing rods are included. Just slide them into position behind the outfeed fence face, and the fence doubles as a jointer for putting perfect edges on boards.
High-herformance precision router table top
The fence sits on Kreg's large, durable Precision Router Table Top. This 24' x 32' (609mm x 813mm) table has a 1'-thick (25mm) MDF core that absorbs vibration and offers mass to help create a stable router table. A tough surface, made from high-pressure laminate, helps workpieces glide easily. Underneath, steel-reinforcing struts ensure that the table will stay flat to provide years of dependable service.
A keyhole slot in the table accepts the quarter-turn fence lock and allows the fence to be removed easily for freehand routing operations. In addition, the table comes equipped with a combination miter-gauge/T-track to accept a miter gauge and other accessories. Four (4) included Precision Insert-Plate Levelers keep plate and table top surfaces perfectly flush.
Heavy-duty, easily-adjustable steel stand
To make routing even easier, the table and fence sit atop a heavy-duty stand. Made from heavy-gauge steel, the stand can be adjusted from 31' to 39' (78.7cm to 99.1cm) high, and has levelers to compensate for uneven floors. Plus, the stand has predrilled holes that make it easy to mount accessories and to customize the stand.
Create a custom router table system
Create a custom router table system to meet all of your routing needs with the Kreg Precision Router Table Top and Kreg Multi-Purpose Shop Stand. Or, create your own system with a shop-made table top and stand.
Router bit hole must be located 16' (406mm) from the right side of the table. Fits 1'-thick (25mm) tables without modification. Thinner or thicker tables may require modification.
Multipurpose, self-squaring router table fence system
High-performance table top with precision insert-plate system
Heavy-duty, customizable, easily-adjustable steel stand
Features
Heavy-duty table with Easy-Slide™ low-friction surface
Heavy-duty 3/8' x 9 1/4' x 11 3/4' insert plate
Precision T-Square style fence with independent sliding faces
Heavy-duty steel stand
Construction
Anodized aluminum, MDF, melamine, steel
Compatibility
Precision Router Lift
3' Dual-Locking Casters
Precision Beaded Face-Frame System
Multi-Purpose Router Table Switch (sold separately)
True-FLEX™ Featherboards (sold separately)
Precision Router Table Stop (sold separately)
Precision Router Table Setup Bars
Dimensions
24' x 32' Table
Includes
(1) Precision Router Table Top (PRS1025)
(1) Precision Router Table Fence (PRS1015)
(1) Multi-Purpose Shop Stand (KRS1035)