Kreg® Pocket-Hole Jig 310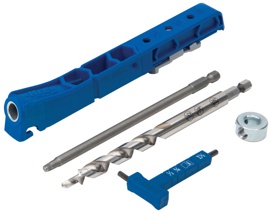 The Kreg® Pocket-Hole Jig 310 makes it easier than ever to build wood projects—whether you're building your first DIY project, or you've been working with wood for years. The Pocket-Hole Jig 310 works with materials of any thickness between 1⁄2' and 1 1⁄2'. It features a hardened-steel drill guide and thickness stops for 1⁄2', 3⁄4', 1 1⁄2' material that give the versatility you need to build with boards and plywood.
The included material thickness gauge and easy-set drill bit make setup simple, and the anti-slip base holds the jig precisely in position while you drill perfectly positioned pocket holes every time. Durable construction and a lifetime drill-guide warranty ensure that the Kreg Pocket-Hole Jig 310 will deliver the years of project-building and home-repair satisfaction and value you expect from the #1 pocket-hole brand — Kreg.
Portable jig for creating pocket-hole joints
Convenient anti-slip base to hold jig securely in place while drilling
Simple to set up and easy to use with material-thickness stops for common DIY materials: 1/2', 3/4', 1 1/2'
Foolproof setup with a material-thickness gauge, positive stops, and easy-set drill bit and stop collar
Durable construction to last for years, with lifetime drill-guide warranty
Versatile design for building indoor and outdoor projects, and for making household repairs
Features
Twist-apart drill guides and removable spacers
Variable pocket-hole spacing
Expandable with optional Expansion Pack
Removeable thickness stops for increased versatility
Construction
Durable plastic polymer, hardened steel
Adjustability
Adjustable material-thickness stops at 1/2', 3/4', 1 1/2'
Capacity
Materials from 1/2'- to 1 1/2'-thick
Compatibility
Kreg Pocket-Hole Screws
Kreg Pocket-Hole Plugs
Easy-Set Drill Bit, Stop Collar, Wrench
Pocket-Hole Jig Universal Clamp Adapter
Pocket-Hole Jig Spacers
Pocket-Hole Jig Expansion Pack
Easy-Set Material-Thickness Gauge/Wrench
Includes
(1) Drill Guide with Material Thickness Stop
(1) Easy-Set Drill Bit and Stop Collar
(1) Material Thickness Gauge/Hex Wrench
(1) 6' Square-Drive Bit
Owner's Manual