Klamp Table™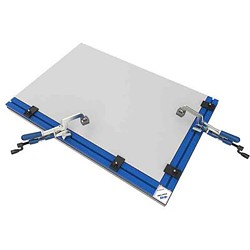 The Ultimate Clamping Solution for Do-It-Yourselfers and Woodworkers
The Klamp Table™ is the ultimate clamping solution for Kreg Joinery™, and works with the entire family of Klamp System™ components. If you've ever struggled to get perfectly flush Kreg Joints, failed to get your clamps positioned exactly where you need them, or needed an extra set of hands around the workshop, the Klamp Table™ is the perfect solution.
*This is the same table included in the Klamp Table™ and Steel Stand Combo, but comes without the stand so you can place it wherever you need it.
Durable Work Surface
Made from glue-resistant melamine, this large 21' x 33' work surface is perfect for sanding, sawing, drilling, routing, joining, and almost any other woodworking task.
Flexible Positioning
Stop working around your clamps and start working with them. The Klamp Trak™ allows you to position your Bench Klamp™ and Klamp Blocks™ anywhere along the table's edge, and quickly remove them to regain your flush work surface.
Precise Alignment
Made from durable, impact-resistant plastic, Klamp Blocks™ can be positioned anywhere along the Klamp Trak™, allowing you to quickly register your workpieces and align your project.
Versatile Clamping
Are you always looking for the right clamp? The Kreg Bench Klamp™ is great for almost any woodworking task. It slides across the Klamp Trak™, rotates 360 degrees, and locks firmly into place wherever you need it most.
Large 213/4' x 333/4' clamping surface
Replaceable, glue-resistant melamine surface
Trak on two sides of the table provides flexibility
Klamp Blocks™ for fast, accurate registration of workpieces
Work Surface
Replaceable, glue-resistant melamine surface
Clamping Surface
213/4' x 333/4'
550 mm  x 860 mm
Includes
(2) Bench Klamps™, (5) Klamp Blocks™, (2) lengths of Klamp Trak™, a durable melamine surface, and assembly hardware.