Cabinet Door Mounting Jig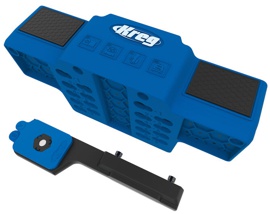 Get an extra helping hand for installing cabinet doors with the Kreg Cabinet Door Mounting Jig. It makes the job of installing cabinet doors a breeze – whether you're working with face frames or frameless cabinets. It works with both left-hand and right-hand doors.
The jig features a support arm that helps you hold the door with one hand, while your other hand is free to mount the hinges to the cabinet. The Cabinet Door Mounting Jig also allows you to position your cabinet doors precisely. Adjust the support arm to one of the nine different positions to get your doors placed exactly where you want them. There's one setting for inset doors, and eight more at 1/4' increments, so you can support doors that overlay the cabinet face up to 2'.
The Cabinet Door Mounting Jig comes with two micro-adjustment shims for even more fine-tuning. Use one shim to move the door up by 1/16' or 1/8' – or combine both shims for 3/16' of adjustability.
Attach hinges easily while the jig helps hold the door in place
Position left- and right-hand doors exactly for perfect results
Place doors at the height you want with micro-adjustment shims
For use with frameless or face-frame cabinets
Adjustability
Features
Works with left- and right-hand doors
GripMaxx™ anti-slip surfaces
Adjustable in 1/4' increments
Clamps easily in place
1/16' and 1/8' shims offer precise adjustment
Works with face-frame and frameless cabinets
Capacity
25 lbs.
Compatibility
Kreg Concealed Hinge Jig